Blue Bird Houses Have Eggs for Easter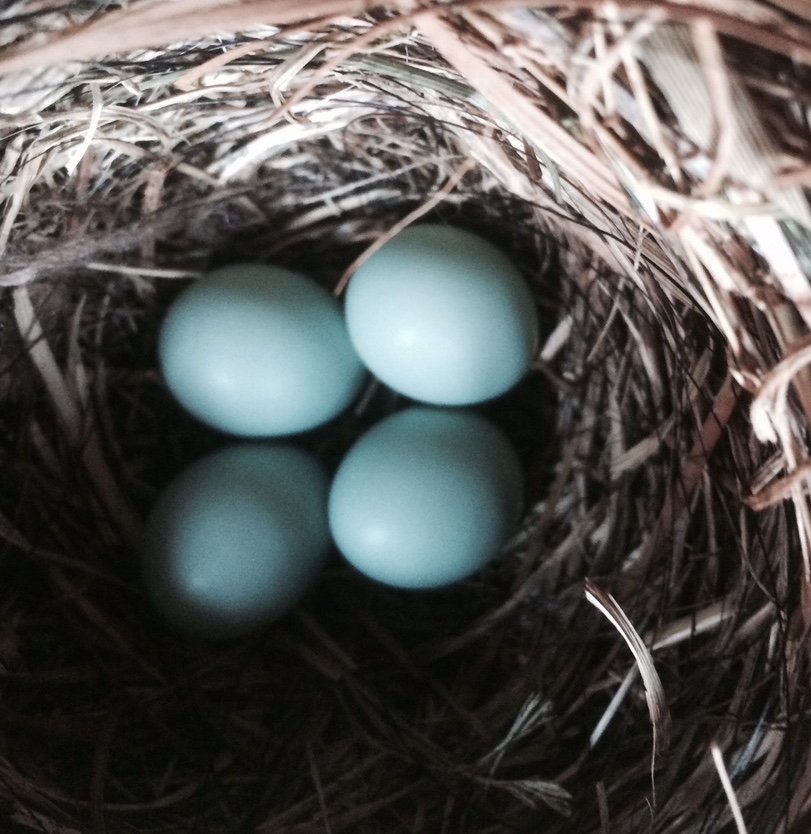 Mama Blue sure was busy the last few days. As of the previous nest check there were 0 eggs, but 4 today, an egg-stravaganza… like a special Easter gift!
The whole episode started with a squabble between blues and chickadees over blue bird houses and who will nest where. Not uncommon at all for birds to remove others' nesting material and raise a ruckus, but  never had we seen activity like this before. Mr. Blue not only removed the moss from the birdhouse he wanted… he placed the material in a nearby house as if to say "okay, chickadee, you nest here!" The chickadee would then retrieve the moss Mr. Blue had placed inside! This activity went on for about 20 minutes until we were the ones who actually gave up!
Their nests are completely different, so the winner of choice number one box was confirmed the next day. Chickadees use moss, hair, feathers, and maybe wood chips, while Eastern bluebirds construct their nests with mostly pine needles, dried grasses or weeds. But no eggs, and a week later… no eggs 🙁 And then today 4 perfectly colored, beautiful bluebird eggs.
Not only in the Southeast, but as far north as IL and NY, bluebirds are starting earlier than usual.

Longer days and warmer temperatures have much to do with it. Availability of insects nudged the earlier than usual nest starts too. So as long as the weather cooperates (no snow/ice storms or drenching rains) bluebirds will be lucky to have a good season, with at least two, possibly three broods. Grow strong and thrive little blues!
Happy Easter to All…
May you find bluebird eggs in your house today!