All That Chatter Around Blue Bird Houses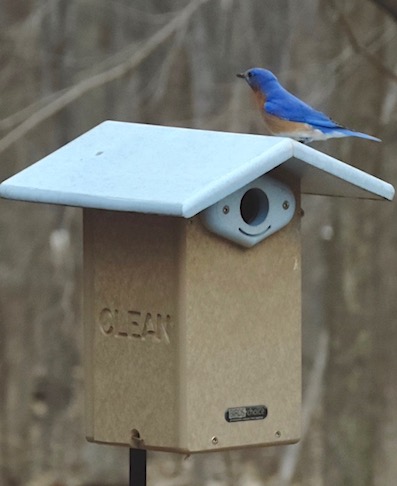 Lots of bluebird chatter recently and lots of chasing from feeders. It's only January but in the southeast this activity means one thing… bluebirds are claiming their territories already!
The chattering along with the comical tip of the wing proves dad's ready to find mom, pick the right blue bird house and get to work!
The previous family unit is severed and all bets are off now as juveniles are no longer welcome at meal worm feeders. Less than one full season old and it's time to go find your own digs and significant other… they do grow up fast.
It's difficult to watch sometimes, so you put extra meal worm feeders out and hope everyone gets a fair share. But instead, panic ensues and papa is frantically chasing his own offspring from feeder to feeder to feeder. Good grief!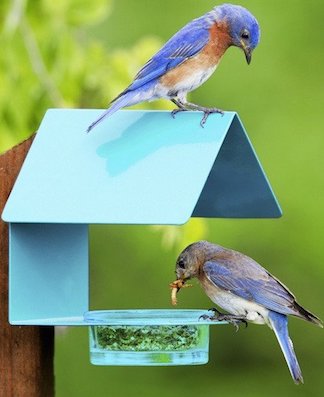 This is precisely why having more than one bluebird house within view of another doesn't work. But one in front, one in back does seem to work peacefully. And it's worth it because watching blues nest and raise their young is fascinating. And it goes on for months if the first clutch fledges successfully.
Two, three sometimes even four nests per season! That's superb entertainment for up to 6 months if you're in the southeast anyway.
Always remove nests after babies have fledged. Unlike some cavity nesting birds, bluebirds prefer to build a new clean nest for each brood. Promptly removing old nests opens up the birdhouse for their next clutch. Discard away from the birdhouse (like in the trash) as old nests on the ground or nearby will draw predators.
A couple of new blue bird house for spring: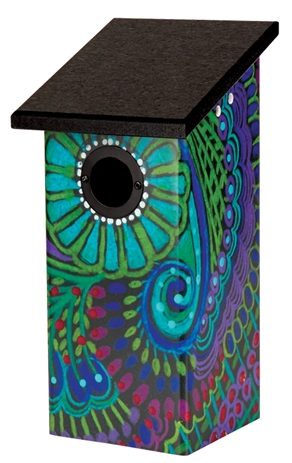 The Paisley Vinyl Bluebird House is whimsical garden decor with total functionality. Upgraded features make this one very bird friendly. Babies will love their fledgling ladder when it's time to leave the nest!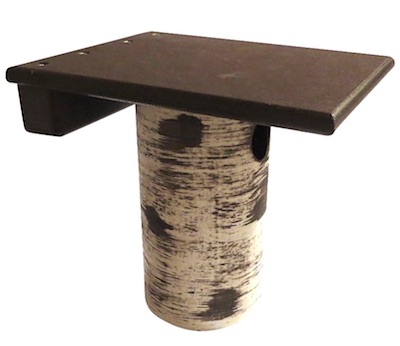 If you happen to be ready for the next level and wish to monitor your bluebirds' progress (recommended) the popular Gilbertson Nest Box recently received a cool upgrade. An optional recycled plastic roof (poly-lumber) in matching brown looks perfect.
The new roof coupled with its vinyl birch-like cavity will be around for many seasons. And tests were performed measuring ambient heat… the plastic roof keeps houses cooler in summer than the the original cedar roof. But for any die-hards out there… the original roof is still available.
C'mon spring and happy birding!
Save