Alaska, Salazar Team Up to Kill Polar Bears

Alaska just took its brutal war against the polar bear to a new level.
The state was already in court to strip federal protection from the polar bear, but last week it launched a new attack — on the bear's habitat. It filed a legal notice to strike down the federal government's designation of a 120-million-acre polar bear reserve along Alaska's northern coast.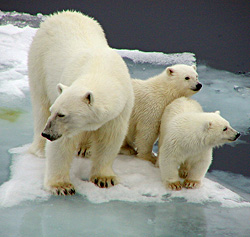 This is the largest imperiled species habitat reserve in history — bigger than 48 of the 50 states — and protecting it is essential to the survival of the polar bear.
The Center for Biological Diversity has just a few weeks to prepare to beat back Alaska's new antiwildlife lawsuit, and we need to raise the funds now to do it. Please, help us save the polar bear and the largest habitat reserve in history: Donate today to our Endangered Species Action Fund. A Center donor will triple-match any gift made by Dec. 31, so your donation will be worth three times as much.
Just four days to triple your gift and save polar bears.
The Center has been leading the charge to save polar bears since 2005. We got the majestic white bears placed on the federal list of "threatened species," we stopped oil drilling in their habitat and we won the 120-million-acre habitat reserve earlier this year.
We've been fighting for years to stop Alaska's bid to strip federal protection from the polar bear. And with your help today, we'll be in court again in just two months to stop the state's effort to eradicate the bears' habitat reserve as well.
Help us win the looming legal battle to save the polar bear's habitat by making a generous emergency gift to our Endangered Species Action Fund by the end of the year. Now is the best time to do it, since a Center supporter will make your gift worth three times as much by triple-matching donations made by Dec. 31.
The Center doesn't spend its money mailing wolf and polar bear plush toys. We don't offer calendars and tote bags. We spend our members' donations protecting endangered species, period. And we win: Our 93 percent success rate in the courts is unparalleled in the environmental movement. So is our protection of more than 500 species and 230 million acres of wildlife reserves.
Unfortunately, Alaska isn't the only one attacking polar bears. Last week Interior Secretary Ken Salazar made two stunning decisions that could drive the polar bear extinct if we don't stop him as well.
In lock-step with Bush administration policies already struck down by the courts, first Salazar opened up huge areas of polar bear habitat to offshore oil drilling — despite the devastating spill impacts we saw in the Gulf of Mexico — and then he refused to upgrade the polar bear's legal status from "threatened" to "endangered." Withholding full protection from the polar bear gives Salazar an excuse for not stopping fossil fuel pollution from coal-fired power plants that are driving the species extinct.
But with your generous support and our 20-plus years of winning life-saving results for endangered wildlife, the Center will take on Alaska and Salazar at the same time, saving the polar bear and its precious, disappearing habitat.
P.S. Your generous gift truly makes a difference when you give to the Center and keep our expert staff on the front lines of the most critical battles for the survival of species — like the polar bear in Alaska. For only the next four days, a Center donor will match your gift, making it worth three times as much. Please give to our Endangered Species Action Fund by Dec. 31 and encourage your friends and family to join this life-saving, planet-saving effort.
P.P.S. If you prefer to make your gift by mail, send a check to the Center for Biological Diversity, PO Box 710, Tucson, AZ 85702 — or to give by phone, call toll-free 1-866-357-3349 x 316. Thank you for your support.
Polar bear photo by Pete Spruance.
. When donating online to the Center for Biological Diversity, always confirm that the donation page is located at DemocracyinAction.org or BiologicalDiversity.org.
Center for Biological Diversity
P.O. Box 710
Tucson, AZ 85702
1-866-357-3349
www.BiologicalDiversity.org