a swell idea for window bird feeders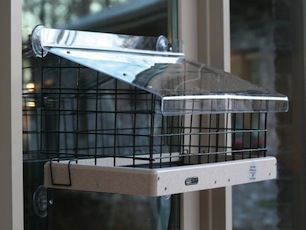 When one's feeding backyard birds, the objective is usually to see those birds! If you're getting on up there in years, and your eyesight's not so great (like me)… keeping a pair of binoculars near the main watching window is always convenient.
Squirrels, blasted squirrels always seem to find and conquer anything that doesn't have a baffle on it. One lousy window bird feeder (that's actually mounted on the deck rail) for seeing birds close-up, always seems to have a squirrel in it! Little pigs are even fed, and have their own feeders with which to contend, but alas… it's never enough.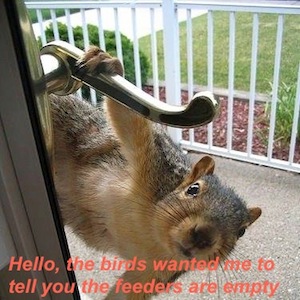 Well, this new handy dandy window feeder just might do the trick! With an innovative cage for keeping squirrels out, the birds may just be able to eat in peace… where I can actually see them sans the binoculars. Can't wait to fill 'er up and try this one on for size!