a bird feeder bracket that's not!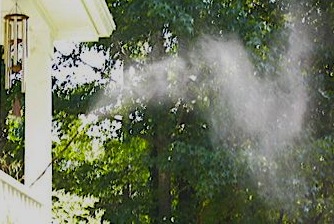 It's pretty cool when you can take an item and make it work for something other than its intended purpose. Surely there's some scientific name for it? I do this kind of stuff all the time around the yard/wildlife habitat (which is my little slice of heaven when time allows).
This bird feeder bracket for instance, serves a leaf mister perfectly. Being a raised front porch, the bracket attaches to the porch rail and sits just right above native salvia and clematis. The beautiful thing is that the bracket can be moved if and when an area becomes too saturated from the mister.
Action? The buzz and flutter of activity in summer is stupendous! Both butterflies and hummingbirds dance, play and flit back and forth constantly. Although the salvia draws them in, the star attraction is definitely the gentle mist of water. Looks a bit strong in this photo, but it's really not at all.
Even song birds will sit on the bird feeder bracket and very tip, just waiting for the water to start! Imagine that – birds attracted to a perch where no feeder exists! Just a downright shame there were snow flurries in Atlanta this morning 🙁 Come on spring!