Make Birds' Holidays Happy with a Solar Hanging Bird Bath!

Want to find that really special gift for the nature fanatic on your list? Look no further than this solar hanging bird bath. Because fresh water in the landscape is the best way to attract birds, if that water happens to move it's even better! Like a visual magnet, birds are drawn to moving water, even the ones who may not visit feeders, or use nest boxes. Baths are relatively easy to care for, and don't cost money to fill like feeders.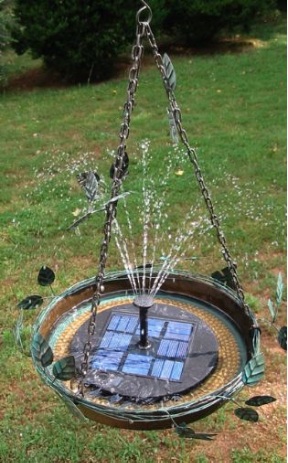 They're great for small spaces, even on the deck, patio, or porch. There's lots of installation options too, with innovative deck brackets, hooks and hangers. The no-rust, copper bronze finish is nice, and this hanging bird bath is plenty deep enough to accommodate a heater in winter.
For something a little more artsy, there's a killer handcrafted, weatherproof stoneware hanging bath. In vibrant tangerine or raspberry blue, it's sure to punch up any spot in the garden.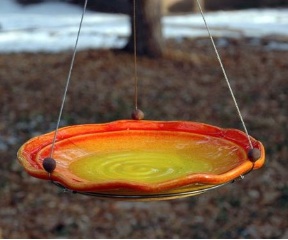 And if you think bird baths need to be large to lure birds… think again! This past summer we had birds actually drinking from ant moats – despite the nine birdbaths scattered around the yard!
For a very economical (so practical yet still attractive) choice, check out this stained glass & copper mini-hanging bath/feeder. It comes in six fun designs, and the pretty glass dish is perfect for offering a variety of treats; from seed mixes, suet and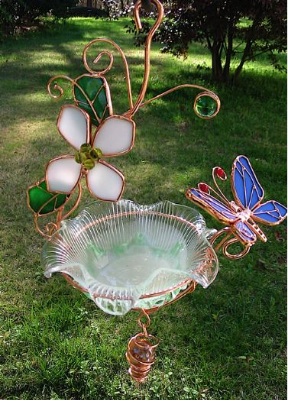 nuggets, to peanuts, and fruit in summer, even mealworms if one's so inclined! And of course plain old fresh water will absolutely entice feathered friends!
This one's already on sale, and with the super secret, special holiday promo code, you can nab an additional 10% off. So if you're still stumped for a perfect birding gift… jot down promo code MC10 and head over to our hanging bird bath section!
Happy Holidays!