Eco-Friendly birdhouse kits for fun projects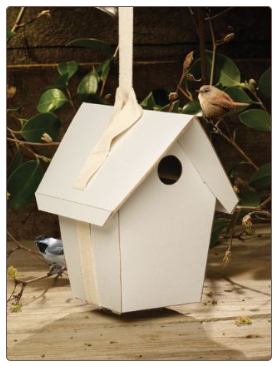 No tools required for these fun birdhouse kits… only imagination! Totally Green Birdhouse Kits are made from 100% recycled paper, which is then laminated into a sturdy board. With a 1.25″ entrance, they'll attract chickadees, nuthatches, wrens and titmice, A spacious weatherproof design makes the bird house biodegradable after the nesting season.
This type of kit is perfect for children of all ages because it's fun to assemble, requires no tools,  and may be painted or decorated any way imaginable. The packaging is even a keeper, providing great info and photos presented in a fun way. Assembled by folding two die-cut pieces of board that fit together ingeniously, these birdhouse kits are even fun for adults too!
Early spring is the optimal time to offer cavity-dwelling birds a place to nest and raise their young. Being a great school or youth group project that promotes stewardship, we'll even offer bulk quantity discounts on birdhouse kits for any interested parties… our thanks for housing the birds 🙂