Easter Egg-Stravaganza Inside Birdhouses!

Happy Easter and Happy Passover!
Things are greening up nicely, the promise of spring and re-birth. It's a most exciting time in the garden and for backyard birders! Cabin fever prevails and folks are itching to get outside and start digging in the dirt. We've even refreshed our age old blog by redesigning for this century… yes, it's that old, we've been around a good while now because the passion for birding still exists.
Rough patch of weather for the nesting birds in our North Georgia yard. The usual suspects; a chickadee nest with 5 eggs, bluebirds with 4 nestlings in the Gilbertson box in back, bluebirds with 5 eggs in front, white breasted nuthatches in back and their smaller cousins- brown headed nuthatches in front.
This is not to mention those who don't use birdhouses; cardinals definitely have a nest as they're back and forth from mealworm feeders. Oh yes, we let everybody have some worms…except starlings, the dreaded nuisance birds are back but this too shall pass.
The Boston ferns are up with nest starts in 2 of them. Don't want birds nesting in your ferns? Simply avoid offering  the habitat and forego the ferns this year. Should you enjoy seeing a family of house finches so close to home (as we do), simply take the fern down to water by submersing the bottom in a bucket of water. Take care not to get their nest wet. Everyone's been very busy staking out territory and claiming birdhouses!
We headed over to the local alpaca farm last week to score tons of fur for our spring "free nesting material promo".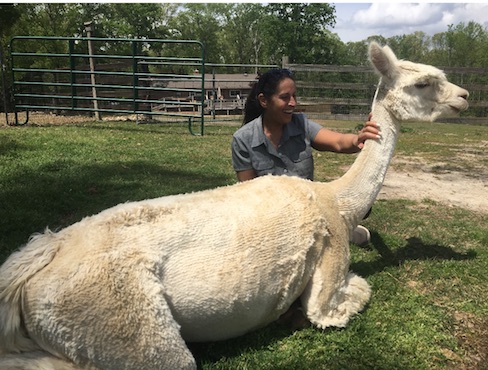 Freshly sheared, the alpacas are so sweet and such a joy to hang around with while chatting with owners of the farm.
After an unusually wet winter in the southeast, nesting activity seemed to get a late start. Warm days of April have been fab, but the last two days have been freezing and wet. If you've still got old man winter hanging around… thankfully it won't be too long!
Goldfinches have turned their drab colors into electric yellow, molting in what seemed to be overnight. Hummingbirds arrived about 2 weeks ago (the only good thing about tax time). And just today, two indigo buntings were spotted at feeders. Migration's in full swing… and it's coming to a theater near you soon! Not sure who's arriving when? Check Journey North.org to track migratory progressions, great website with helpful info!
Are your hummingbirds back yet? Social media is a great place to find birding groups with lots of Q&A's posted. The info may not always be correct though! Most times, others will chime in to offer their expertise and advice, one could learn much if new to attracting and hosting bluebirds or the first season offering hummingbird feeders. Here's a general map of when to expect the tiny sprites, but JourneyNorth provides more detailed info.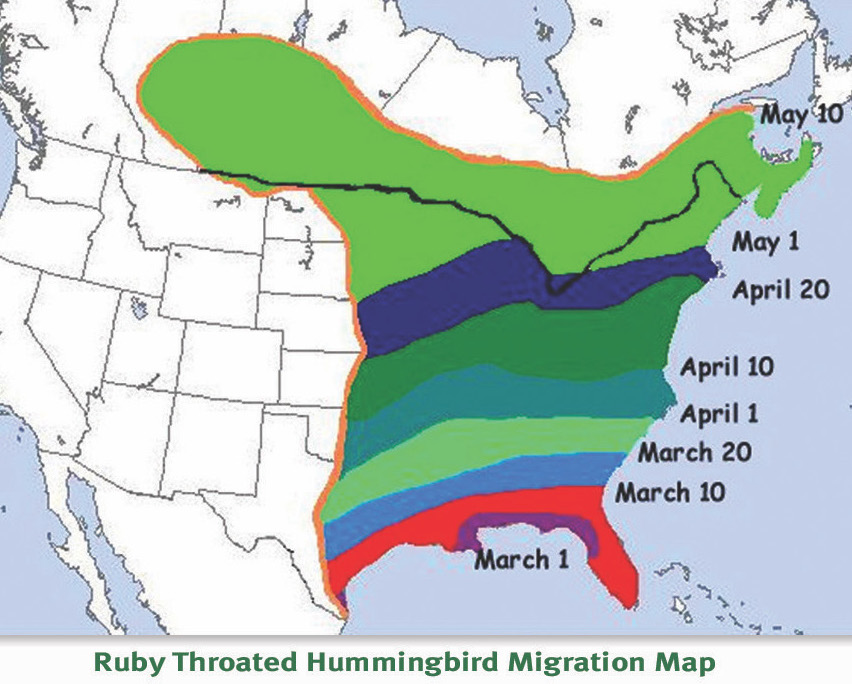 We're hoping to catch a few orioles (who isn't?), so grape jelly and oranges are on the menu. Rose breasted grosbeaks are a sure sign, but this year Cornell Lab reported the birds were spotted pretty far north of normal range during winter. A Baltimore oriole was made famous on social media as he spent his winter in Wisconsin! The host kept the bird fed with oranges and grape jelly, giving general info on his condition since this past January. He hung around all winter and is doing just fine!
Other "outta sorters" were Carolina wrens in Minnesota. This pair actually caught the attention of The Audubon Society for filming and research. Ranges are changing and it's interesting to see who's where at different times of the year.
We wish you a happy holiday and happy spring with lots of busy birding activity around your place!