What is it About Bird Feeder Gifts?
With hectic holidays behind, we hope yours were most joyous and that you received everything on your list. And because today is actually National Bird Day… we found the tweet below to be spot-on!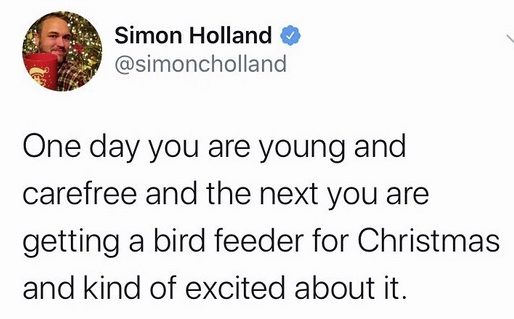 What is about feeding birds that folks find so magical? It's a chore at times to trudge through snow, to keep bird feeders clean or to scoop out wet mushy seed after rain. But we do it… for the birds. Or so, we convince ourselves it's for the birds!
Why is National Bird Day even on the calendar? The hobby has blossomed into a national past-time with more folks than ever partaking. For varied reasons behind wanting to attract backyard birds, it's a calming, peaceful, simple yet wondrous joy that abounds when focused on watching. Not to mention the 23rd annual Great Backyard Bird Count and becoming a part of citizen science. More on that in our next post!
Rewarding beyond explanation… that's the fun part. Just ask a bluebird landlord or purple martin enthusiast who's witnessed successful fledglings. Or the person who's just experienced a first hummingbird close-up. Simply mesmerizing might be an understatement.
In part, like gardening (which goes hand-in-hand with creating suitable habitat) it might be the promise of tomorrow. We feed birds partly in hopes of enticing them to nest in our yards and to watch their families thrive. We know their natural habitats are shrinking, so it becomes a feel-good kind of endeavor.
The other part is that simple connection to nature. It's universal; unplugged, uncluttered, sans the daily chaos. A simple state of zen for many folks, stealing a few moments to watch feathered friends flit around the yard might be the most relaxing part of the day!
So keep this in mind when stumped for an awesome and useful gift that's long-lasting. And not just for holidays or birthdays… unique bird feeders will "offer solace in times of grief". That's a direct quote from a customer review, the recipient was comforted by a most thoughtful gift with the ability to bring true joy. It's also where "cardinals appear when angels are near" came from as well as the belief that hummingbirds might just be angels!
A brisk 30 degrees in Atlanta this morning, but you can bet we were up & out early… filling the bird feeders!
Wishing you a birdie happy & healthy new year!