A New Recycled Bluebird House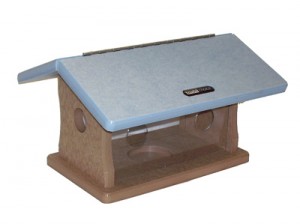 Seeing this seasons' first bluebirds in my yard, it was the perfect reason to put up a new bluebird feeder.  This year I opted for one of the recycled models by Birds Choice.  It cost a few dollars more than a wooden feeder but the investment was well worth it!  This blue bird feeder not only has openings on either end, but two more additional openings on each side of the plexy panels.  A total of six openings…a unique feature for these types of feeders, it allows easier access and escape from from predators.
At first glance, and by the weight, I could tell the quality was of very high standards.  Then, the label stating that "this bluebird feeder kept 33 plastic containers out of landfills" just makes one think how easily they created a positive reaction for the environment.  I know this blue bird feeder will last a very long time, as Birds Choice guarantees their recycled products never to crack, split or fade.  Can't wait to see the bluebirds start using it!
Oh yea, here's my bluebird feeder, complete with a new baffle for extra protection.