W'eve seen angry birds–check out these smart birds in Gifts of the Crow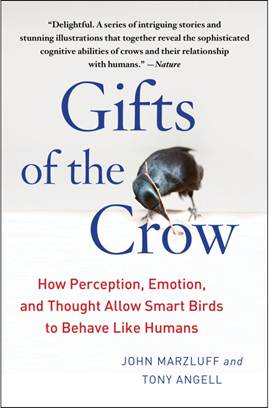 GIFTS OF THE CROW:
After viewing some related videos on YouTube, it can be said that crows are really extremely smart birds! A link to the video mentioned in this review is included, but the case of the fisherman's thief was  really entertaining as well!
"Delightful… a series of intriguing stories and stunning illustrations that together reveal the sophisticated cognitive abilities of crows and their relation­ship with humans."–Nature
"Full of clear and detailed accounts of research…remarkable."–New York Times
"Amazing" –Seattle Times
In the depths of winter 2012, this compulsively watchable video of a crow sledding down a roof in Russia on jar tops went viral, sparking debate among its almost 700,000 viewers around the world.  Crow expert and author John Marzluff received it from enthusiastic viewers from across the United States and several different countries around the world.
And if not proof enough, check out this great PBS video on ravens and two classic examples of their intelligence.
In GIFTS OF THE CROW: How Perception, Emotion, and Thought Allow Smart Birds to Behave Like Humans (Atria, February 5, 2013, $15.00), Marzluff, the preeminent researcher on crows, teams up with artist and fellow naturalist Tony Angell to offer an astonishing look at the little-known and largely under-appreciated intelligence of the birds of the amazing corvid family, which includes crows, ravens, and jays. Showing that these "bird brains" are actually quite sophisticated, Marzluff and Angell tell fascinating, true stories of surprising crow behavior, such as crows using tree bark to wind surf along ridge tops, tools to get food from hard-to-reach places that human babies can't figure out, and, most surprising of all, giving gifts to people who help or feed them.  Along with these and other amazing stories, the authors explain the engrossing, breakthrough science that accounts for this behavior, as well as arresting illustrations of the crow's antics and anatomy.
 GIFTS OF THE CROW proves (beyond a doubt) that crows are highly intelligent, undeniably emotional, and much more similar to humans than we ever imagined. In fact, the authors reveal that crows have taken on seven key human characteristics: language, delinquency, insight, frolic, passion & wrath, risk-taking, and awareness. Their unusually large and complex brains, long lives, social lifestyles, and shared habitat with humans have led to crows evolving these human traits. With surprises on every page, Marzluff and Angell recount mind boggling, riveting stories of crows who, like humans, acknowledge their recently deceased, bestow gifts, seek revenge, warn of impending danger, recognize people's and other creatures' faces, commit murder, dream, play tricks, design and use tools, and work together to accomplish tasks.
Exciting and conversation-changing, GIFTS OF THE CROW reveals new discoveries about crows' intelligence, behavior, and relations with people and other animals, as it provides a fresh theory about how crows have assumed human traits—and what their behavior tells us about ourselves.
Find out:
·         What makes corvids so much more like humans than other species, such as the eagle, whale, or bear?
·         The symbiotic relationship between crows and humans: how they adapt to us and learn from us and what we can learn from them?
·         Why crows over the years have been considered clever, from Aesop to Dickens to Poe to today, and why the term "bird brain" is not an insult but a compliment?
·         Why it is important and valuable to study the sophistication of crows from both a scientific and artistic perspective?
·         Their most surprising and poignant astonishing discoveries about crows
·         How these findings about the amazing abilities of crows should influence the way we, as humans, go about protecting and preserving these and other sentient beings.
ABOUT THE AUTHORS
John Marzluff, Ph.D., is Professor of Wildlife Science at the University of Washington. The author of four books and more than one hundred scientific papers on various aspects of bird behavior, his research has been the focus of articles in the New York Times, National Geographic, Audubon, Boys Life, The Seattle Times, and National Wildlife. PBS's NATURE featured his raven research in its 2001 production "Ravens," and featured his crow research in 2010 with the documentary film, "A Murder of Crows." John has been a guest on NPR's Diane Rehm Show, the Jay Thomas Show, and Morning Edition.
Tony Angell has authored and/or illustrated a dozen award-winning books related to natural history. Most recently, his drawings in the coauthored book, In the Company of Crows and Ravens, received the prestigious Victoria/Albert prize. His works are continuously available at galleries in Seattle and Santa Fe and are in several museums and corporate collections across the country.
ABOUT THE BOOK
Title:   GIFTS OF THE CROW: How Perception, Emotion, and Thought Allow Smart Birds to Behave Like Humans
Author:            John Marzluff and Tony Angell
Imprint:            Atria Books
Publication Date:         February 5, 2013
ISBN: 9781439198742/ eBook ISBN: 9781439198759
$15.00 / 320 pages / Trade Paper
More Praise for Gifts of the Crow:
"With its abundance of funny, awe-inspiring, and poignant stories, Gifts of the Crow portrays creatures who are nothing short of amazing. A testament to years of painstaking research and careful observation, this fully illustrated, riveting work is a thrilling look at one of nature's most wondrous creatures. " –Guardian.co.uk
"Delightful… a series of intriguing stories and stunning illustrations that together reveal the sophisticated cognitive abilities of crows and their relation­ship with humans, which have inspired art, poetry, legend and myth. Anec­dotes abound, inter­spersed with the science on crow behavior and brains. The authors persuasively describe the high intelligence of members of the crow family. They detail how corvids use and manufacture tools and show forethought… Corvids devote much of their time to play — important, say Marzluff and Angell, because we 'build better brains through play'…Crows, like apes, have huge brains for their body size, with a massive expansion of the avian pre-frontal cortex, as Marzluff and Angell eloquently describe. " –Nature
"Angell's illustrations of birds are exquisitely detailed… the book will instill in many readers a sense of wonder and curiosity at what these birds can do. An insightful look at some of our surprisingly capable feathered friends." –Kirkus
"Researchers writing about comparative human and nonhuman cognition always make brief, obligatory reference to the underlying neurological and hormonal systems, but Marzluff and Angell actually provide us with the details. In lucid, logical, and articulate prose, they carefully explain all the interrelated mechanisms involved in the fascinating behavior patterns of their corvid subjects and how these mechanisms relate to those of humans. Their book is indeed a gift, not only to those of us eager to learn about corvid behavior but also but also to those who wish to understand the bases for these actions." –Irene M. Pepperberg, author of Alex & Me: How a Scientist and a Parrot Uncovered a Hidden World of Animal Intelligence–and Formed a Deep Bond in the Process
"In this important work, you'll find stunning examples of crow emotionality and intelligence — a triumphant vindication for those who have known all along that animals are capable of much more than they're generally given credit for. Crows dream as part of their learning process, for instance, and profile other individuals' behavior and act accordingly. In many ways, their intelligence is equal to that of the great apes. Fascinating." –Stacey O'Brien, author of Wesley the Owl
"Throughout much of human history crows have been our constant companions.  In their exciting new book,   Marzluff and Angell, show us how crows brains work, while providing the evidence that these cerebral birds have a lot more in common with us  than we ever imagined.  And Angell's illustrations alone make the book worth the price." –Paul R. Ehrlich, co-author of The Birder's Handbook