squirrel baffle… baffle, baffle, baffle!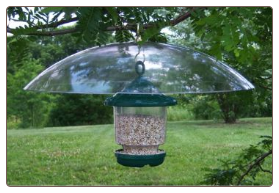 So many folks will mutter: "I can't feed the birds because of the squirrels". It's pure rubbish, nonsense I tell ya! The pesky critters  can be foiled so easily and permanently with the use of a good squirrel baffle. This one-time, relatively inexpensive purchase of a good baffle really will solve the problem of squirrels raiding bird feeders.
So you have a shepherd's hook that the squirrel baffle won't slide over? Ridiculous! They make a great pole-mounted baffle that will go on any kind of bird feeder pole. It's innovative cone-shaped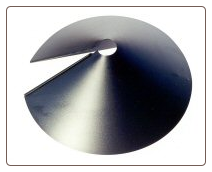 design actually opens up and separates to go around the pole, then attaches back together by hooking one end into the others' locking lip.  It's a powder coat metal, so the squirrel baffle stays looking nice for years. I just spray painted one that has to be twenty-some years old!
Should you desire a feeder mounted on a 4×4 post… no worries! An attractive baffle is also available for mounting on wood posts. So, there's absolutely no reason to let squirrels ruin the enjoyment of backyard birding. A good squirrel baffle, be hanging, pole, or post-mounted will foil squirrels once and for all… the birds will thank you too!