live worms escaping your mealworm feeder?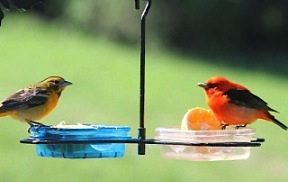 A customer's question grabbed our attention: "How do you keep the worms inside the mealworm feeder?"
Tooth, texture… that's what it's all about here. If the surface of the feeder is not smooth as glass, the wiggly, crawly delights get hold and simply crawl right out! Now this is a huge advantage to ground feeding birds like robins – ours actually sit and wait below the mealworm feeder. But for bluebirds, chickadees, nuthatches, warblers, swallows and titmice, they have to swoop down to catch their worms if they've all crawled out.
So what's the point of using a hanging dish feeder if worms end up on the ground? Not much! If you're feeding live worms, it's best to use a feeder that has absolutely no texture on the inside surface. Worms will stay put longer, and while juveniles are learning to use feeders, this is helpful.
An open dish type feeder will also accommodate a good variety of other treats to entice wild birds. Oranges used in this double-dish model have orioles flocking and teaching babies where the good stuff is! Suet chunks and peanuts are also good options for winter feeding.
Smooth, plexi-glass meal worm feeders like this are available in staked, hanging and even pole-mounted options. They're durable for year-round use and dishwasher safe. Birds can perch anywhere on the dish – making it easier to land and feed. The vertical hangers are long enough to use with a weather guard, or even a baffle should squirrels be a problem around your place.
If you're on the squeamish side and can't bear the thought of live worms, birds will also go for dried worms. In fact they pack more protein per serving! Consider a dish style mealworm feeder this season… they work great for more than just worms!