Archive for the 'Edible Birdhouse' Category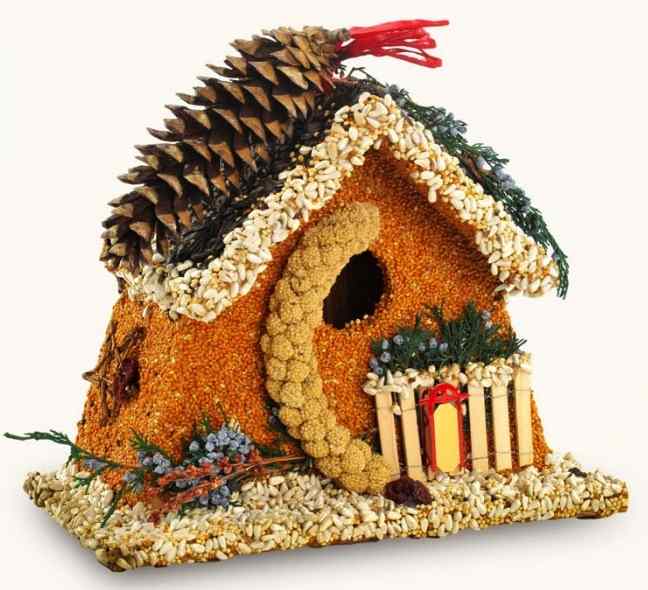 The best one yet, it's big, colorful, scrumptious, and totally functional… such a great gift idea for the holidays!
Decorated with detailed whimsy and premium seed, it's almost too tough to put this one outside!
Wild birds will flip for the Bed & Breakfast Chalet… twice over. Once the seed's gone, the slightly larger entrance offers a great nesting site for most small to medium size backyard birds… even bluebirds. It also provides a cozy shelter or roost during the off-season, when nesting isn't happening.
But you want it to last as a feeder? Most importantly, keep away from squirrels, they'll have a field day with any birdseed ornament or edible birdhouse that's not protected. And rain – that's a bummer too and will take it's toll on ruining seed prematurely. Placing the bird feeder/birdhouse in a sheltered area, or using a weather guard or squirrel baffle is highly recommended for use as a feeder. Seed will last much longer to feed more birds.
When you're ready for the housing, simply hang the chalet from a branch or pole in a semi-quiet part of the yard. A shady area is best suited as direct sunlight is not good for nestlings. The house may be stained, painted or left natural to weather over time.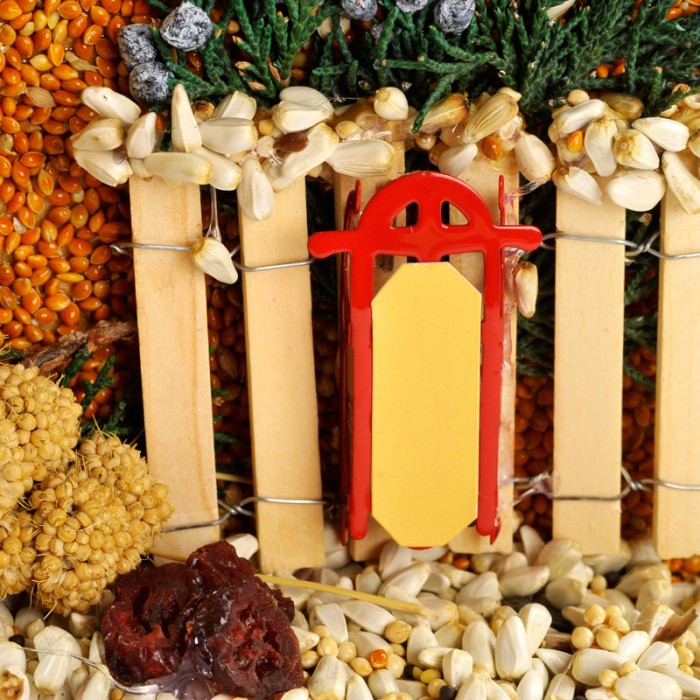 This adds yet another dimension to your gift-allowing for some creativity. The recipient may paint it any way that tickles their fancy… birds won't even mind a bit should the colors or pattern turn out hideous

Does it really look that? Absolutely, and with every detail. Festive seed treats and edible birdhouses are spectacular gifts for any gardening buff, nature enthusiast, or birding fanatic-like us. Any holiday leftovers already have a chosen spot in our yard… guaranteed!
It's a great day for deals across the net, free stuff with orders galore!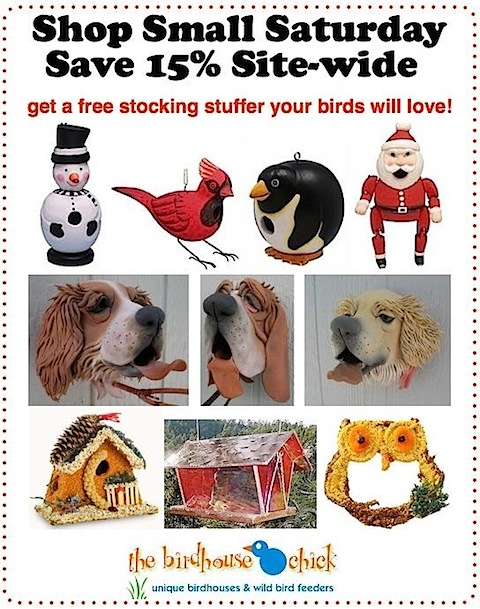 The trick is finding that special something for the one who has everything. If they happen to be tree huggers, or even the least bit into wild birds… look no further! Holiday wooden birdhouses are guaranteed to bring big smiles, and for the birds too. Even though we're not anywhere near nesting season, these fun bird homes make awesome roosting spots on cold nights. They're gifts that last and actually get utilized. Edible birdhouses are another fantastic idea too, you get the feeder plus a real birdhouse once the seed's consumed. They're festive, colorful, and oh so fun!
Say you're looking for something really off-the wall? Man's best friend immortalized as a fine birdhouse is sure to be the biggest hit ever! Totally handcrafted and made to order, we'll even customize these canine bird houses from your photo…
no extra charge.
Add in free shipping, plus a stocking stuffer the birds will love, and oh yeah… 15% off, and that's a sweet deal! Shopping small definitely has its benefits!
Use code bb15 now through Monday, Dec 2 to take advantage of this sweet deal for the holidays!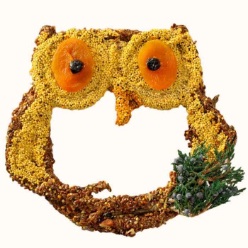 With cooler weather heading our way, the natural foods birds forage for will become more scarce. Insect populations are dying off, and the once vivid flowers seed heads' of late summer and fall have pretty much been picked over. Now's the time when birds (and squirrels) are caching food in tree cavities and crevices for winter feeding. Woodpeckers, chickadees and titmice are famous for this behavior. Some birds will even steal others caches!
It's definitely the time to gear up in the bird feeding department if you happen to partake. Suet always offers a calorie-packed meal for most backyard birds. But in the fun department, big seed ornaments and the wren casita edible birdhouse are back!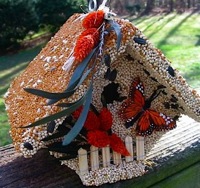 Coated with premium seed, nuts and fruit, these big ornaments are an excellent food source for birds and some even make real houses for nesting and roosting once the seed's been consumed.
Birdie Cottages are other edible houses that offer a cozy roost for smaller songbirds. In a set of two cottages, there's one to keep and one to give!
These decorative feeders make for awesome gifts for any nature lover on your list… and the birds will love them too!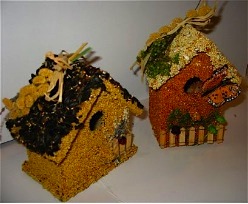 Save 10% on these fun wild bird accessories through 11/15/13
Enter code MC10 at checkout, the name in above header takes you to our place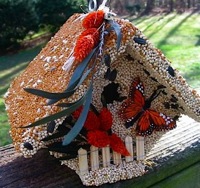 So all the food's gone and the party is over, right? Nope… the fun is just start starting with spring not too far off! And if anything like last year, spring will again come early

Although it makes an awesome feeder, the All Season's Wren Casita edible birdhouse is the perfect nest site-for more than just wrens. Some folks have inquired how to re-seed them for extended use as feeders. I suppose peanut butter might work as a good base… but the manufacturer sure isn't giving away their secret so fast!
So just how does one encourage nesting? It's all about habitat, so start by offering a fresh water source. No fancy-pants birdbath needed, (unless you'd like one in your yard) something as simple as a plant saucer filled with water works great. On the deck, step, rail, tree stump…wherever! Drill three holes in the sides of a plastic one and make a quick hanging bath should ground predators lurk in your yard (cats). Optimal depth is just 2-3 inches for birds to bathe and wade comfortably. If your dish or saucer is deeper, consider a large rock in the center for birds to perch, or lining the bottom with river rock, or a few layers of pebbles.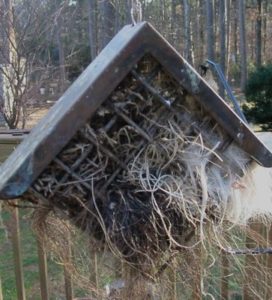 Next… nesting materials! Again, you can do this one yourself, no fancy store-bought kits necessary (but we do offer some cool ones). Figure out a vessel to hold the materials; a suet cage works great, as does a mesh produce bag from the grocery store (like the kind apples come in). Then start to gather the goods! Some favorites include:
Decorative mosses like Spanish, sphagnum, green sheet moss, raffia, and that dried straw stuff. Pluck some from one of your house plants!
Feathers are adored by tree swallows, and bluebirds have been known to add a few here and there as well. Really cheap at a craft store, or any un-dyed feather duster will do-preferably clean.
Bright cotton yarns, save these from anywhere you can
Pet hair is huge favorite of chickadees, titmice, wrens and others. (Not recommended if treated with flea/tick medication)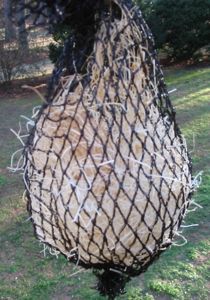 Live anywhere near a horse farm? Horse hair is the best, and we give it away in the spring! The key is to get the materials out before nesting season actually starts. That way birds see it and become familiar, knowing that when it's time, the goods are right there for the pickins! Avoid placing materials in any birdhouses as avian amigos prefer to do their own decorating! Simply hang from a branch where they'll see it. Also, don't pack the vessel too tightly, as you'll want the materials to dry quickly after a rain shower.
Offering nesting materials will absolutely encourage nest building around your yard, and extend the use of that edible birdhouse!
Thanks for housing the birds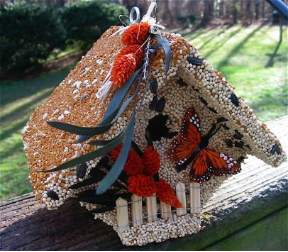 Scorching temperatures and lack of rain have left most of the country in the dust-literally. For wildlife, these extended conditions prove to be daunting. It's difficult to find food and water, and even more critical when raising young. Birds in our yard have actually been taking seed from feeders to feed fledgelings, Cardinals and Thrashers to be exact. Mother Nature's device of "survival of the fittest" is in full swing this summer.
So as far as feeding birds in summer… why wouldn't you? Food sources are scarce, and supplemental feeding may mean the difference between life or death for some baby birds.
This edible birdhouse provides seeds for lots of resident songbirds. If protected from the elements and squirrels, it should last a while. And even if the seed goes faster than anticipated, you're left with a real wren house that provides a perfect nesting site for next season. The wooden house beneath the seed may be stained, painted, or left natural. During the "off-season", the house makes for a great roosting spot too. Appropriately named the "All-Seasons Wren Casita" it makes a fantastic gift for any birder or nature enthusiast… or even for yourself!
Be kind to wildlife and offer fresh water if you're in a drought-stricken area. A shallow bowl of water makes a swell birdbath, even a plant saucer is great. Just keep water fresh and birds will come!
So many houses… and so little time!
With Valentine's Day fast approaching, gifts of nature are always a perfect choice for bird-lovers, garden addicts and the like. Hmmmm… Bird house or bird feeder?
This groovy Wren Casita is both! A real, full-size wooden wren house is revealed once the premium birdseed has been consumed. Layered with millet, safflower and sunflower, it proves a tasty treat for your avian amigos. Chickadees, finches, and titmice are a few who will flock to this feeder. These unique birdhouses may be painted in a whimsical design, stained, or just left natural to weather over time. The decorative flowers and stems on the Wren Casita may be used by some birds for nest material as well.
For use as feeder, just hang this unique birdhouse from a tree limb or hanger in view where you'll be able to watch the action. As with all bird seed, best results will be obtained when it's protected from the elements and pesky squirrels. For use as a birdhouse, simply hang the Wren Casita in a secluded part of the yard, or mount to a post or tree trunk approximately six to ten feet from the ground.
Surprise your Valentine with an edible birdhouse that will provide a critical nesting site for many seasons to come. Please help house the birds!